Activities
Close (in minutes)
Golf Courses
Dominican beach (a few minutes walk)
Restaurants (Seafood, Italian, grill)
Aquarium of the city (20 minutes by car)
Water park ideal for children in the capital (20 minutes by car)
One of the largest casinos in the island
Restaurants

Pequeña Suiza – Italian restaurant with fondue, the best in the city
Pelicanos – In the Hotel Hamaca located literally on the water.
Neptunos – on the water, offers seafood, near the Hamaca
Boca Marina – in water, offers seafood
In Lalo skewer
DaNancy – Located on the back of the Hotel Hamaca.
Italie Italie – Quaint, located in the Gaza Strip.
Boat House – On the beach.
Terraza Quebec – outdoors, grilled meats.
Burger King

Trendy Clubs

Disco El Bâtey
Le Luxury
Austria
Le Luxury
Isla Bonita
La Cueva
Laser Disco
Madhouse
Cosmos
Route 66
Tuca Tuca
Zanzi Bar
Nightlife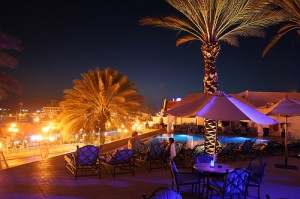 Most of Boca Chica's nightlife takes place Duarte street as it is a block apart parallel to the beach. There are places where fashion changes every season, but there is one constant: nightlife takes place in two stages, one from 19 to 23 hours and the other from 23 to 04:00. In the afternoon (from 19 to 23 hours), Duarte street has a friendly atmosphere. Both ends of the street are blocked and becomes a pedestrian-only path. Most restaurants are open and are on the sidewalk outside. The place is full of people eating at one end, or having a drink or a balladant while shopping. Merengue and Bachata tunes, the two most popular genres of the Dominican Republic, fill the air. At this time tourists are mostly couples, families and children. You will have a lot of fun with security.
As midnight falls down, most restaurants close their doors, older tourists and families return to their hotels and night birds begin to spread their wings. The bars, which are also installed on terraces over the street, give an air of festivity to the alley. Most are small, completely open to the street as well as being almost entirely outdoors. There are several shops but few of them draw large crowds. At 2 am, most Dominicans working in local restaurants or living in the city or in the nearby town of Andrew begin to emerge and the nightlife of Boca Chica explodes. If you want to mix with the locals, this is the place to go. The atmosphere culminates at about 3 am and at 4:00 the crowd begins to decrease.
There is no dress code in Boca Chica, whatever the bar on Duarte street you can find outfits ranging from elegant to clothes worn daily. Many bars do not accept children, but regulations may vary.